The iPhone repair shop is increasing with the spread of iPhone, but I will describe it because I have confirmed the event that I become very troubled recently.
If you are the owner who runs an iPhone repair shop, the thing that you have to put the most effort into is attracting customers.
There are various ways to attract customers, regional newspapers, SNS, Web advertising, etc., but I feel that the way of attracting customers is Google advertising, especially the iPhone repair shop that is able to attract customers.
What!I can no longer run an iPhone repair shop in this Google ad.
This content was described in the policy change officially announced by Google in October 2018.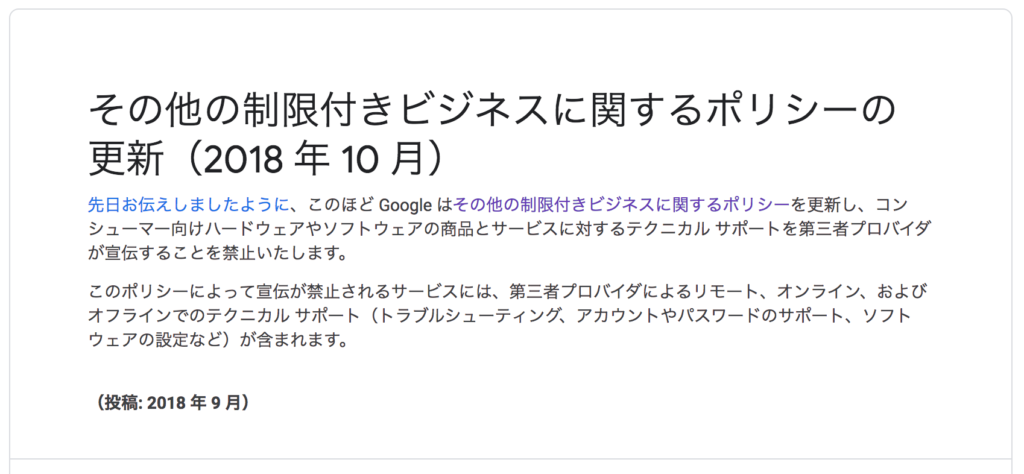 In short, iPhone repair shop other than the manufacturer I think that it means that it is not possible to publish to Google advertising.
In fact, when I searched for "iPhone repair" on Google, the inventory was completely lost.
In addition, i think that iPhone repair shop will take measures conscious of search keywords when you publish to Google ads,
When I tried searching with compound keywords, "iPhone repair Tokyo", "iPhone repair Nagoya", "iPhone repair cheap" stores that are displayed as Google ads even if you search, it was about one store, two stores.
Still one store, two stores are the reason that is posted, not equal!I thought, where I actually tried to contact Google, I received the following answer.
"There was a policy update in October 2018, but we are not able to handle all of our stores at this time.It was said.
However, this was temporary, and it was said that it would not be posted in the next update period etc.
It seems that there are 100 stores from 50 stores in Tokyo alone, but as long as you actually search on Google, one store, because it was about two stores, 90% is in a state that has not been placed in Google advertising.
Is there a way to attract customers other than Google Ads?
The most simply thinking is to use Yahoo! ads, which are rivals of Google Ads.
However, if you've ever been using Google Ads, you'll understand, Yahoo! ads and Google Ads are bidding.
It is a mechanism that more money is displayed higher, but since it seems that there are quite a lot of people who switch from Google to Yahoo!, the possibility that the cost per click will go up than before is "large".
I think most iPhone repair shops probably think the same thing, so I felt it was very dangerous to move from Google to Yahoo! as it is.
It may be less cost-effective than Google Ads, but it might be a good idea to consider SNS ads (Facebook, Instagram), paper media, etc. at this time.
Summary
I think that the company that relied on Google advertising has been an iPhone repair shop has become a very severe situation, but advertising is not necessarily google alone.
I think that there are some companies that do not affect sales at all even if it is not possible to put it out to Google Advertising, so it might be good to check how rival iPhone repair shops are attracting customers.