ASUS laptop F553MA keyboard repair.
[Inquiry contents of failure]
Some keyboards are not allowed to type
It was a thing.

ASUS Japanese keyboard is not available because it is not available depending on the model because it has become difficult to obtain parts.
However, this F553MA was able to correspond because it was a model that can obtain parts.
I think that there is a store where the keyboard of F553MA is replaced by TOPCASE, but it is possible to suppress the repair price because it is possible to replace only the keyboard in our company.
The following image is only the F553MA keyboard.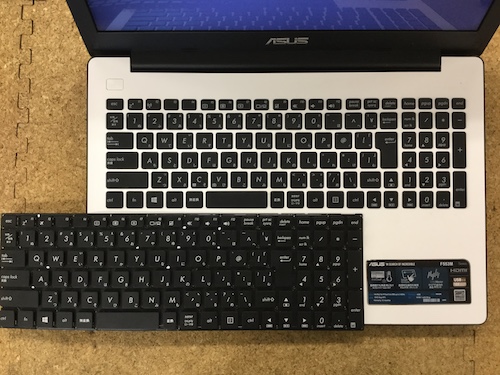 All keys have been able to input normally by the keyboard exchange.
In the case of pCs of overseas manufacturers, the parts of the Japanese keyboard are small by all means, but it is easy to obtain when it comes to models with a large number of sales volumes.
Even if you are refused at another store, we also purchase from overseas, so there is a possibility that you can get it.
If the keyboard is out of order, please contact us first.
How much did the ASUS F553MA cost to replace the keyboard?
The total amount including parts price (new) and labor costs is fixed at 10,000 yen.
What is the delivery time and time spent replacing the ASUS F553MA keyboard?
We have ordered parts, but we are able to carry out the return procedure in three days after we have received the personal computer.
If there is stock of parts, we can repair on the shortest day, so please feel free to contact us when it fails.